Dental implant crowns – dental exams & cleaning – simple & surgical extration – implant dentures – facelift dentures – metal free partials – soft denture relines
FULL DENTURES
A great smile makes an excellent first impression, and we helped many men and women feel great about their smiles with a full set of dentures. If you're ready to explore what full dentures can do for your confidence, schedule a consultation by phone or online at your earliest convenience.
What are full dentures?
Dentures are a tooth replacement option, and full dentures replace all of your natural teeth. Today's dentures are light years beyond the options available just a decade ago.
If you have doubts about the aesthetic appeal of dentures, you owe it to yourself to see how transformative a full set of dentures can be. Technological advancements have created new types of materials and new manufacturing tools that allow for a natural look and an incredible fit.
Full custom dentures are a cornerstone of Implant Denture & Dental Center.
How are dentures held in place?
With properly crafted conventional dentures, most people don't need any further help keeping them in place throughout the day.
If you're anxious about your dentures moving in your mouth, there are numerous adhesives on the market that can help you feel more confident that your dentures are securely in place.
Another option for anchoring dentures is a system known as implant overdentures. This solution involves a set of custom dentures that attach to dental implants. Because those implants are anchored directly into your natural bone tissue, the dentures are held securely in place and are not removed unless repair is necessary.
What is involved in getting a set of full dentures?
The process often begins with extracting any remaining teeth and allowing time for your gum tissue to heal. Once your gums are healthy, we take precise measurements of the interior of your mouth. That information helps him craft your custom dentures.
Also begin creating your dentures before your teeth are removed. Speak with us to see which approach is right for you.
An in-house denture lab at our Dental Center reduces the amount of time you'll wait for your new dentures. Once they're ready, you return to the office to have them fitted. We make sure to take the time to check for proper fit, making adjustments as needed.
A gorgeous set of dentures are worth very little if they are uncomfortable to wear. That's why achieving the best possible fit is so important. When you're ready to learn more about the transformative power of a new set of dentures, schedule an appointment by phone or online right away.
Custom Dentures and Partial Creations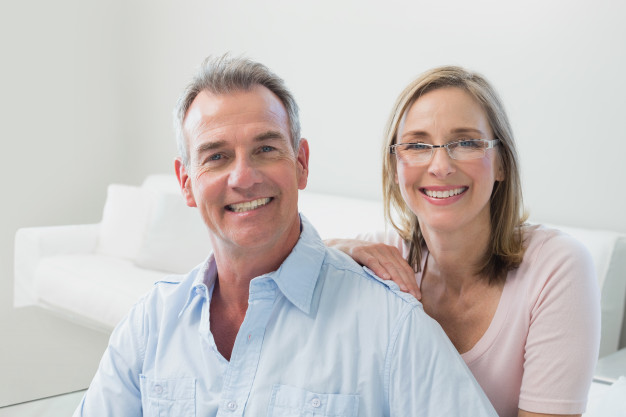 Your smile is often the first thing people notice about you, which is why so many men and women in need of emergency dentures turn to Implant Denture & Dental Center has more than 25 years of experience and can create beautiful dentures to restore your smile within a brief period. If you need dentures right away, schedule a consultation discuss your options. Scheduling is as simple as a phone call or a quick visit to the website to schedule online.